Understanding Performance and Risk Management with AIOps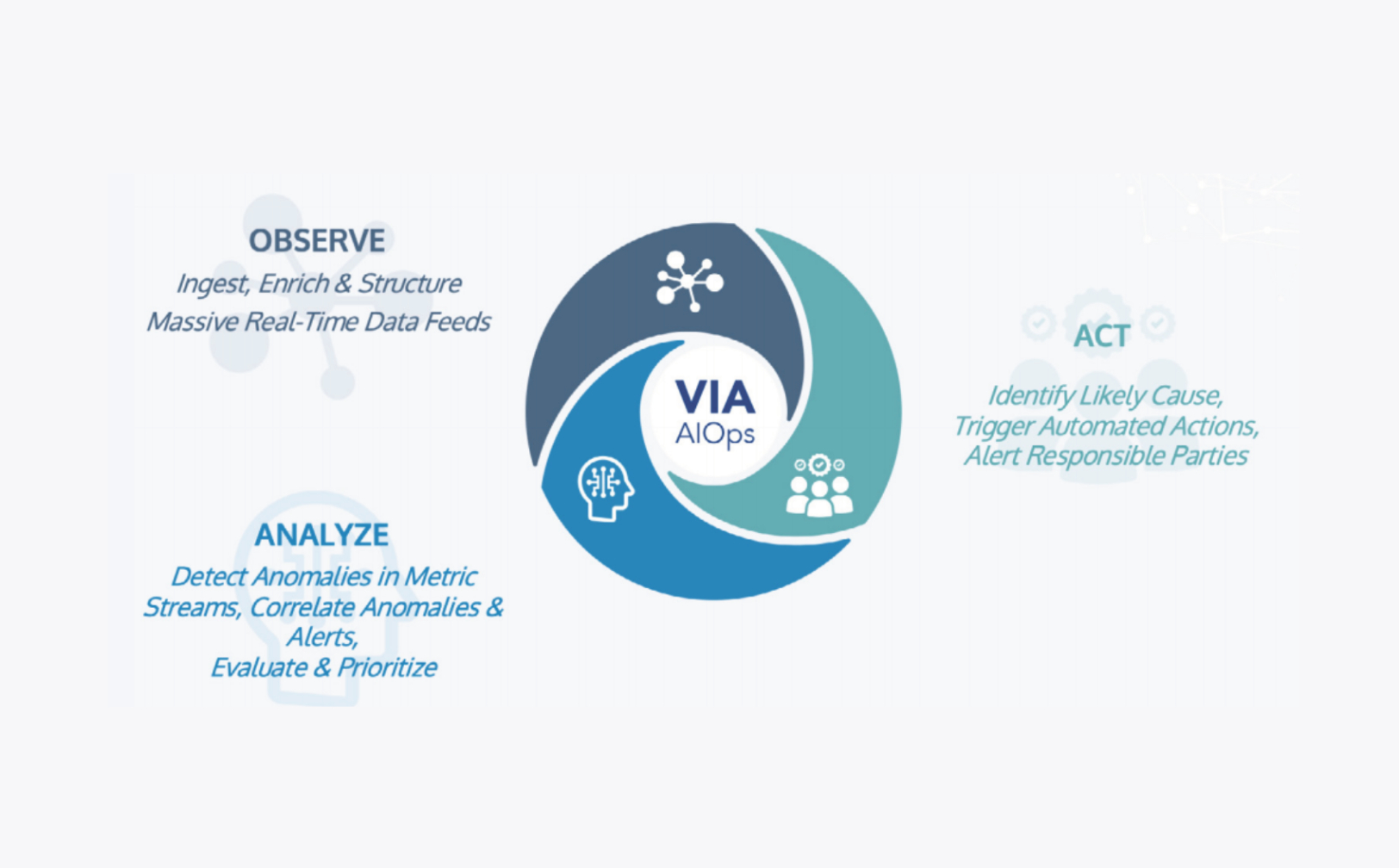 Organizations spend millions of dollars monitoring service performance with a wide array of monitoring tools and experienced staff. And yet, most companies are missing opportunities to improve digital services and enhance their customers' experience by accelerating anomaly detection, root cause analysis and resolution of customer or service impacting events.
Understanding root cause requires observing and reacting to the interplay across elements in the service ecosystem. Not only focusing on signals and anomalies coming from IT elements or independently from the application or network but looking across these and understanding their impact on the overall service performance of the service and the customer experience.
VIA AIOps lowers cost and accelerates resolution through alarm noise reduction and automating incident management to resolve service performance and customer-impacting events. This model is dependent on three AI-driven frameworks that interconnect throughout the event pipeline to reduce the time to diagnose issues and resolve them faster through automation:
Service Performance Management: Automatic anomaly detection, root cause analysis and probable root cause definition, severity of impact definition, and the customer populations affected.
Change Assurance and DevOps Support: Monitors for and detects customer experience and service impacts caused by attribute changes introduced by the enterprise or an end-user subscriber (i.e. changes in subscribers' mobile devices or operating systems).
Fault Management: R Alarm noise reduction, automated anomaly detection, root cause analysis, and prescription of the next best action for service incidents across the technology stack and between application domains.
What Makes VIA AIOps Unique?
Via AIOps integrates with existing service management and monitoring, allowing for faster collection and analysis of data across your ecosystem. VIA AIOps can support processes ranging from customer support chat, network monitoring tools, and change management systems, including Cisco NSO, Remedy, Cherwell, xMatters, and ServiceNow. Via AIOps flexibility in adapting to your existing platform brings you closer to your customers and their needs, eliminating silos and elevating the service to exceed customer expectations. VIA AIOps explainable AI model builds trust in automation, determines probable root cause, and helps lower operational costs through prioritization and rapid resolution of customer events, automated workflows, and understandable KPIs across your service assurance platform.
Organizations that have implemented VIA AIOps have experienced:
18% fewer customer support contacts annually
25% reduction in augmented staff
22% lower tool license cost
12% fewer technician visits
Interested in learning about how VIA AIOps will impact your organization?
Click here to access several case studies that showcase how VIA AIOps has impacted organizations in telecommunications, financial services, and healthcare.