VIA AIOps provides customer experience assurance while decreasing operating costs.
VIA sees more with total ecosystem observability and its explainable AI provides automated root cause analysis and automated remedial actions that can easily be checked and verified by human operators. Through automated learning of dependencies and service ontology, VIA AIOps correlates service failures to application, network or infrastructure failures, providing your customers experience assurance.
Know about service impacting issues before your customers report a problem.
The customer service experience is fragile. Service delivery teams need the power of analytics and automation to get ahead of service interruptions. Despite an abundance of monitoring, its not possible for isolated functions to determine the root cause of service impacting issues. That's why more companies are choosing VIA AIOps. Reduce the noise and get to actions faster.
VIA transforms billions of signals from real-time data streams to a manageable number of actionable incidents. By correlating anomalies across all layers of the service delivery, VIA AIOps reduces the noise by separating symptoms from the root cause and identifies the potentially impacted population of customers. The uniqueness of VIA Beacons allows for this massive scale.
Introducing VIA Beacons
Granular Impact Analysis
See service problems and know which customers are feeling the impact. VIA Beacons trigger secondary analysis across the connected ontology to uncover root cause and identify the related impact zone.
Today, there is no shortage of device and application managers in isolated silos, monitoring and spewing tens of millions of signals, creating a deafening noise.

VIA Beacons detect granular issues across the din of signals, enabling your team to act faster. Beacons provide the impact analysis you need to identify customer populations impacted by anomalies across the service delivery infrastructure.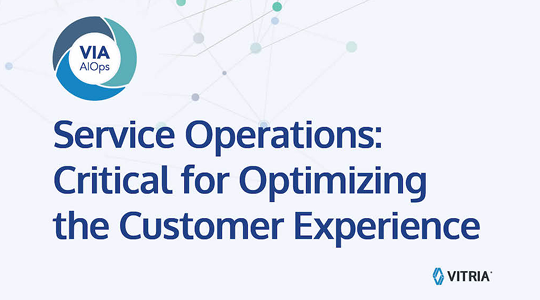 The core of exceptional customer experience is the ability to resolve problems that arise before the customer feels the impact. Today's monitoring tools cannot accomplish this goal. Such tools fail to provide the complete visibility of the service delivery ecosystem required to understand CX impacts and avoid triggering service incidents that could have been avoided or quickly contained. AIOps benefits are therefore being considered by many in the industry,
What is the solution?
Next-generation AIOps applications understand the entire service delivery ecosystem and customer impact so that the right issues can be prioritized and quickly acted upon. Using AI and Machine Learning, AIOps applications makes current systems smarter by enabling all of the available data to be analyzed together.
VIA by Vitria is a next-generation AIOps application that improves customer experience by providing Total Ecosystem Observability, Explainable AI, and Experience Assurance. With VIA, customers saw the time to detect the problem and initiate action cut in half, the number of subscribers affected reduced, and overall service quality improved.

Download the white paper to learn more about how VIA is bridging customer experience to service operations with next-generation AIOps benefits.
The next generation of AIOps platforms is here and setting a new standard in customer experience. These applications are helping companies drastically improve the effectiveness and efficiency of service delivery to large numbers of external customers. The experts at Vitria have developed this market guide for AIOps platforms specifically for companies providing digitized services direct to their customers and who are looking to leverage AIOps to up their game by providing consistent service to customers without the typical drag on profitability.
This guide will help you:
Document the needs of your business,

Select the product capabilities that will meet your needs,

Use the self-assessment included, to narrow your search for vendors that will enable you to reach your goals and realize value from your AIOps investment.
Investments in infrastructure to enable remote workers and schoolers, the necessary adoption of telehealth and telemedicine and the emerging contactless retail are creating challenges for many organizations.
To survive, businesses are expanding digitized services putting new pressure on IT Operations to meet and exceed the customers' expectations for service availability and performance.
In a highly competitive environment, a next-generation AIOps application offers a game-changing solution for IT Operations teams. AIOps applications dramatically improve IT Ops vision- correlating what has happened, what is happening now, and giving IT Ops insights into the future.