Visibility & the Right Analytics Across the Service Delivery Ecosystem is a Must to Meet SLAs & Simplify the Management Increasingly Complex Networks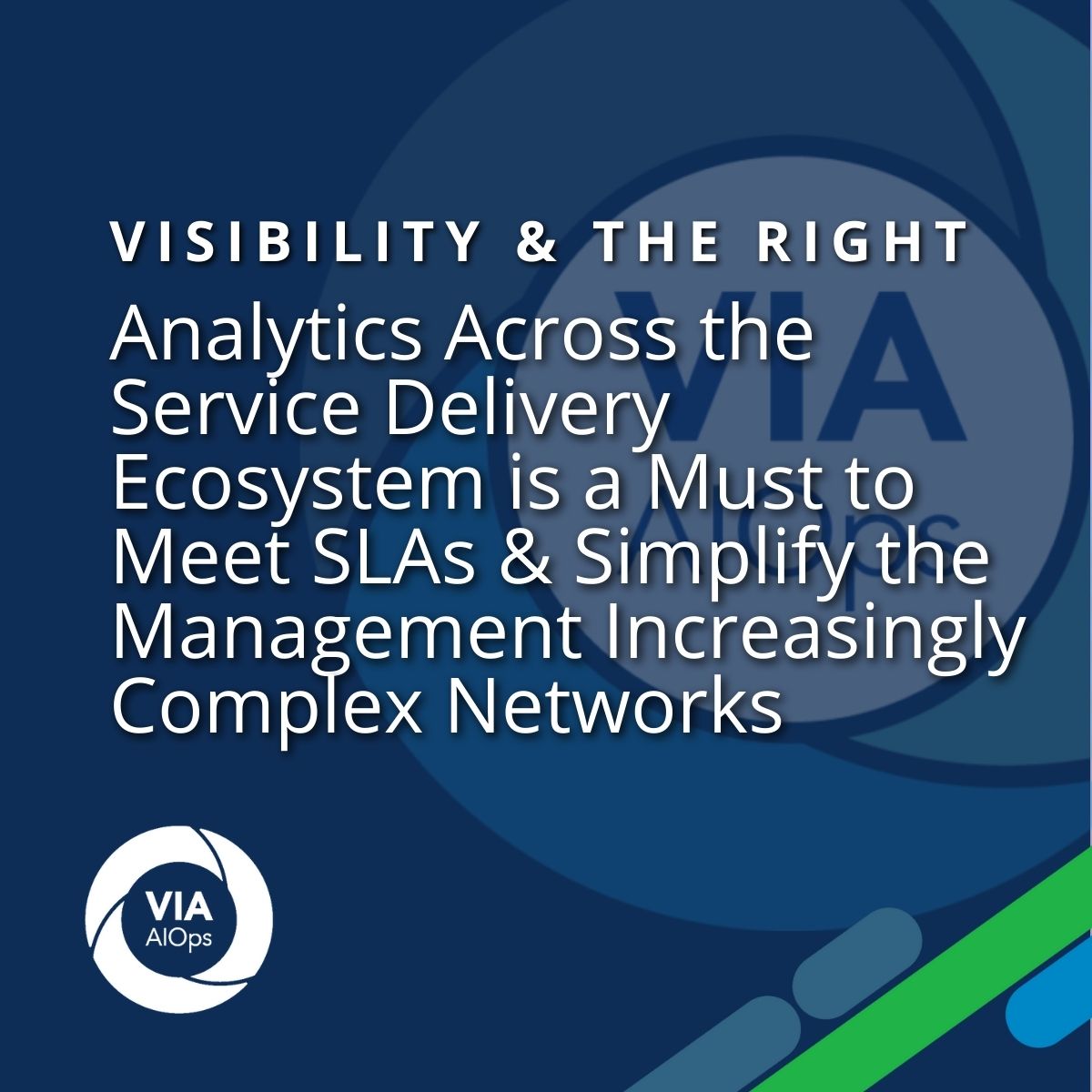 Given the increased complexity of networks and the overall service delivery system, meeting high performance SLAs requires the unification of operations across different domains and operational environments. Meeting high performance SLAs mandates cohesive visibility and fault and performance analysis across the ecosystem. The ecosystem consists of the virtual layer, the physical infrastructure layer, the application layer, and the end customer services. It includes a very complex network that's massive in scale. To successfully deliver high performance and meet customer expectations, you must distill this complexity down with data streams and analytics that can easily spot problem areas, analyze for root cause and not just symptoms, and identify the populations that are impacted by the problem rapidly.
Today, there is a siloed approach to service assurance. This slows down responding to, detecting, and fixing any customer and service-impacting issues. Here's an example in a Telco. In a pre-paid environment, customers were trying to send SMSs, consume mobile data, make phone calls. This requires authentication and communication with the provisioning side to make certain credit is available on the account. There were authentication failures, purse checks, and faults occurring at the VNF layer. This issue was being troubleshot by two different organizations that eventually came together in a virtual war room, to figure that out. Failed VNFs were causing it to seem as though many customers didn't have enough credit on their account to consume the services they wanted. Bad for the customer. Bad for the operator as well. Now, through AIOps technology we bring the fault and performance side together, across service operational units, handling the triage in a more automated way, and then directing the incident to the right automated fix technique or to the right fix team.
To increase operational efficiency, more automation is desired with the ultimate goals of self- healing and autonomous networks. Although we are a long way to reach this desired state, increasing the level of automation also requires visibility across the ecosystem. With a siloed view, you don't have observability across all layers and can't move automation forward.
VIA AIOps and Cisco Crosswork deliver a solution that enables visibility across the network, the integration of fault and performance management, and the necessary intelligence to move automation forward. Crosswork Network Controller does software defined networking, automated provisioning of services and provides a level of service quality and service problem management for Cisco Domain Networks. Cisco's recent acquisition of Sedona Systems provides a hierarchical controller that integrates with Crosswork Network Controller, as well as network controllers from other vendors delivering a unified network view. Vitria AIOps is the aggregation layer at the top of the stack, just below the IT service management platform. VIA AIOps aggregates service health information from the Crosswork Network Controller, from third party SDN controllers, and from Sedona, so that you then have a unified view of everything that's happening from all the resources, all the services, all the vendors, all the layers in one aggregated view that's correlated, deduplicated, and presented in a performance status dashboard in a consolidated incident management inbox.
The end result is discovering issues before your customers do. You reduce your meantime to identify incidents and the meantime to know the root cause of those incidents. Ultimately, you're reducing the meantime to resolve incidents and improving customer satisfaction.
VIA AIOps' ability to understand the probable cause vs the symptom of the problem lies in VIA's functionality to onboard data quickly, enrich data in real time, and correlate across various services and topologies of the ecosystem. VIA AIOps uses an ontological approach to obtain the context needed for more intelligent correlation that supports root cause identification as well as identification of the potentially impacted populations.
With the visibility, advanced analytics and ontological approach, VIA AIOps also supports the change management assurance processes by automatically detecting when network changes have occurred and determining the impact these changes are having on the network and customer experience.
As Marc Austin, Head of Strategy and Growth for Crosswork Network Automation at Cisco stated, "With the scale of networks today that continue to grow faster and faster every day, it's already past the tipping point of what humans can do manually. There's a need to add AIOps."
Listen to the podcast with Chris Menier and Marc Austin on AIOps, our partnership with Cisco, and addressing Service Providers' network assurance challenges.