Arrival of 5G Turns Wireless Network Service Providers into Indispensable Players in the Internet of Things Market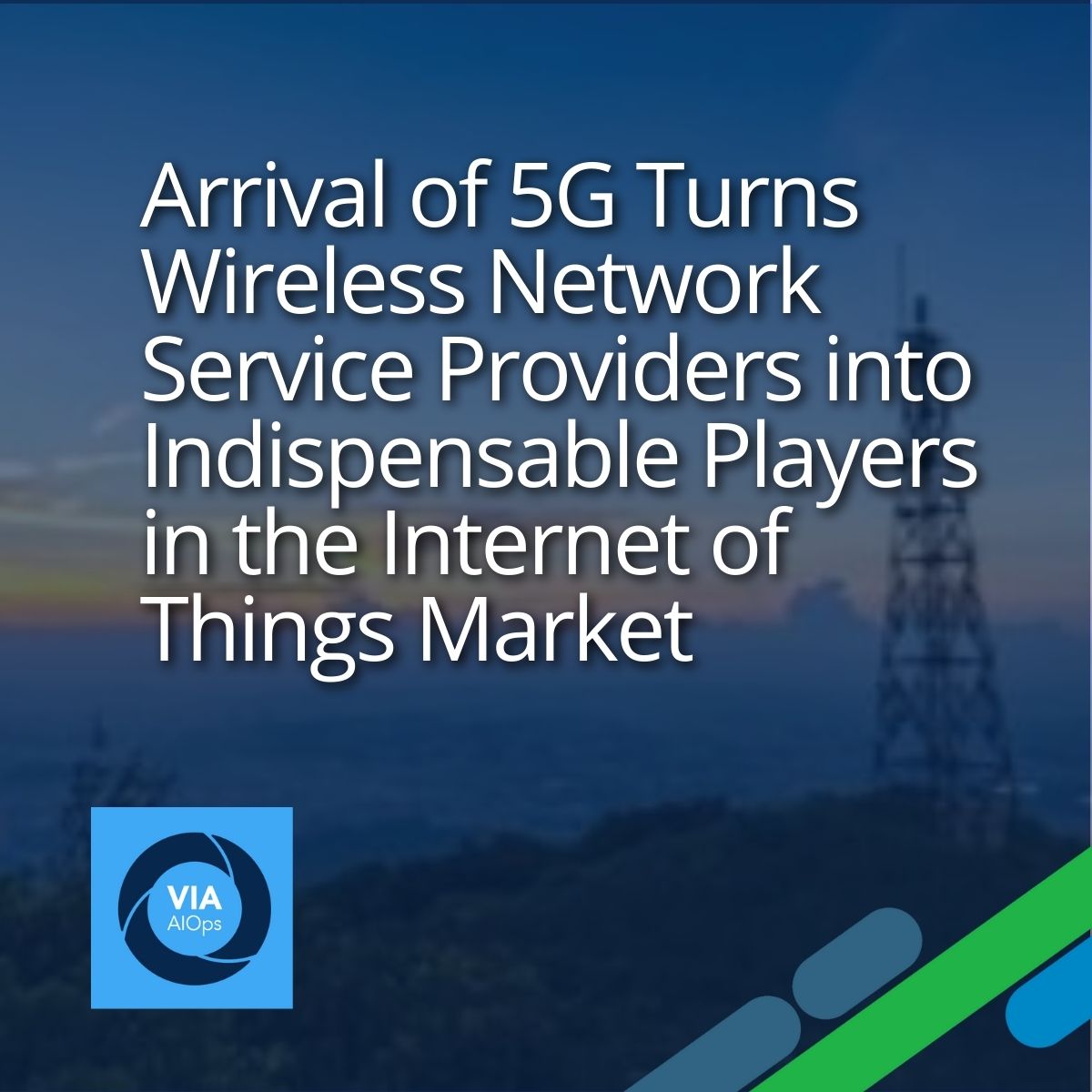 2019 is going to be a very important year for the Internet of Things (IoT) environment. Not only are we seeing an explosion of new use cases emerge across almost every sector of the economy, but we are also seeing ideas that were put into the market only a few years ago mature into critical business requirements for their implementers. IoT is no longer just in the lab; it is in the market in very important ways.
The planned deployments of 5G services by network service providers around the world, however, are going to serve as an important accelerator that will exponentially increase the capacity and reach of IoT applications, but also promise to significantly reduce the cost of deployments. In short, the emergence of 5G this year will launch the "true" mainstreaming of IoT in the global digital economy.
IoT Enabling NSPs to Dodge the Dumb Pipe Dilemma
In so doing, the network service providers (NSPs) that provide 5G services will be in an entirely new position to add value and generate important new streams of revenue by blurring the lines of distinction between public and private data networking environments at both the operational technology and information technology levels.
This could not come at a better time. For a number of years now there has been a nagging concern among many NSPs about becoming a dumb pipe provider. The convergence of 5G with IoT goes a long way toward laying these concerns to rest.
Why?
Because NSPs that are involved with 5G can no longer be pigeon-holed as providers of connectivity that only deliver low-level services over the top. They now have an opportunity to build important new business-to-business relationships that leverage the capacity and intelligence enabled by 5G to offer a broad range of sophisticated managed services.
For example, just about every wireless provider that I've interacted with over the last several months has developed very specific and concentrated 5G initiatives that target the industrial IoT opportunity. NSPs can help change the way entire industries interact with their customers.
5G Ability to Harness Network Slicing is a Key Benefit of SDN and NFV
NSPs have an opportunity to contribute both vast amounts of easy-to-deploy bandwidth along with intelligence to allocate the bandwidth in an unprecedentedly flexible manner. With 5G, one of the technological advances that will have a big impact revolves around network slicing.
An application of virtual network architecture, network slicing uses the same principles behind software-defined networking (SDN) and network functions virtualization (NFV). This is a functional category that we have not been able to exploit in previous generations of wireless infrastructures. By being able to slice the network, you can apply different qualities of service — even different capacities — across the network in an intelligent and intuitive manner. This means that NSPs will be able to help enterprises deliver the right networking capacity to the right place at the right time in a highly dynamic manner. It will introduce efficiencies and functionality that were not economically — or technically — viable in the past.
This has huge ramifications for industrial IoT applications. It will eliminate the need for expensive wired infrastructure and it will streamline the number of machines and devices that must be in place to support a wide variety of workloads and applications.
This alone is going to stimulate a whole new stream of innovation for industrial IoT and accelerate implementation and adoption.
Another immense area of opportunity for NSPs that get into the IoT game revolves around harnessing their extensive experience with network security. With IoT, almost every organization becomes a networking organization. As enterprises add more devices to their networks to connect more applications and people, the imperative to effectively manage risk will grow exponentially.
NSPs can help organizations with this. They understand as well as anybody the implications of the network effect on risk exposure.
A related area of opportunity revolves around complexity management and operational risk. As NSPs begin their 5G implementations new technologies and capabilities like Massive MIMO, beamforming, full-duplex traffic, and small cells will come to the forefront as offerings that enable smarter and more efficient performance across the network.
Vitria's Role in Supporting IoT Deployments by NSPs and Enterprises
At Vitria, we have focused on helping NSPs and enterprises manage the complex issues that surround real-time digital operations from a customer experience standpoint. We have developed deep expertise in leveraging the exploding volume of disparate data assets to enable effective automation by bringing to bear the power of artificial intelligence and machine learning.
Our application, VIA, is designed to make sense of a myriad of data sources so that Vitria can provide accurate, real-time analytic insights that offer clear visibility into the operational realities of network performance management and business activity.
From a scale perspective, we realize that the game is not just about mastering the huge volume of data but also reconciling the great variety of data that is generated.
New technologies — like 5G and NFV — are going to generate a need to track and monitor an unprecedented number of variables that affect operational performance and business outcomes.
We are working with NSPs and enterprises to simplify this process by associating the array of logs, stats, counters, scores, and telemetry into the basic, fundamental layers of activity that are critical to delivering a service.
Once the data is brought together, Vitria works with NSPs and enterprises to make sure that the right people have the right access and the right context to do their jobs better. We are leveraging AI and ML to rapidly understand and act on the insights presented by the data that is generated every day, every minute, every second.